Infrared Thermography
JENOPTIK Infrared Camera
The new VarioCAM® HiRes product line from JENOPTIK is a range of high-quality tools for all fields where perfect image quality and measurement precision are crucial to successful work. For the first time, a mass-produced thermal imaging camera can be used to take pin-sharp thermograms in which the finest details can be identified – and this is at a resolution of up to 1.2 megapixels.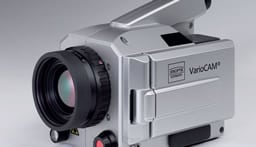 The VarioCam has a 3.8″ Display, view finder, voice recording function via microphone or headset, loudspeaker, acoustic alarm, laser target pointer, LED target illumination, ORITM technology for static & dynamic resolution quadruplication, 384 x 288 uncooled microbolometer with a thermal range of -40 to 120 C NETD<80mk.
Never be annoyed again about washed-out, out-of-focus or pixilated thermograms.
In the future, you will also produce large-format printouts without irritating blocks of pixels.
Avoid the need for expensive and heavy telephoto lenses and macro attachments, thanks to a stepless zoom function up to 8 x.
Make life easier with simpler operability and ergonomic handling.
Combining leading international calibration expertise with camera components manufactured with absolute precision by the JENOPTIK team of experts facilitates measurement in the 0 –120° C range with 25% more accuracy. The high dynamic range of 16 bits enables precise digitization and accurate reproduction of the measurements. Features of the VarioCAM® HiRes product range also include drift-free temperature measurement which is stable in the long-term due to special detector stabilization and an intelligent non-uniformity correction process.
APPLICATIONS
Power/Distribution Lines
Motors
Bearings
Motors
Couplings
Substations
Electrical Cabinets
Motor Control Centers
Buss Runs
Transformers
Roof Moisture Analysis
Heat Loss/Gain Analysis