Laser Shaft Alignment System
Laser Shaft Alignment – D-450 Easy Laser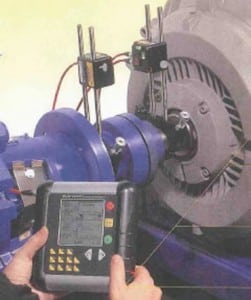 The D-450 is a basic laser shaft alignment system, with the performance and potential for expansion of our more advanced options, such as the D-480, D-505, and D-525. In fact, with the right accessories the D-450 can be converted into any other Easy-Laser system.
The general idea behind this laser shaft alignment system is "simplicity for the user," which positively impacts the learning curve and training time. All tools included in the system are developed for rough use and to be easily to mounted on the machines. As a user you are given step-by-step instructions on the display through the entire measurement procedure.
Even though the technology inside is rather advanced, the measurement principle is straight forward. It is based on the "reverse indicator method" with two laser/measuring units mounted on each side of the coupling.
The D-450 System includes two measurement programs: Horizontal shaft alignment and Softfoot. The displayed measurement resolution can be set as low as 0.05 mils/thou [0.001mm]. When the measurement is complete you can produce a printout, save in the display unit, or transfer the data to your PC.
Laser Shaft Alignment System Advantages
Simple to use
Precise Measurement Resolution
Extremely Low Cost